Friday Fireworks in Grapevine 2019
From Memorial Day to Labor Day, enjoy a free show over Lake Grapevine complete with choreographed music!
NOTE: Due to high water levels, May and June dates TBA. Visit link provided for updates. Currently, the City of Grapevine is hoping to start Friday Fireworks on July 5th this year.

Fridays at 9:30pm:   ???- August 30, 2019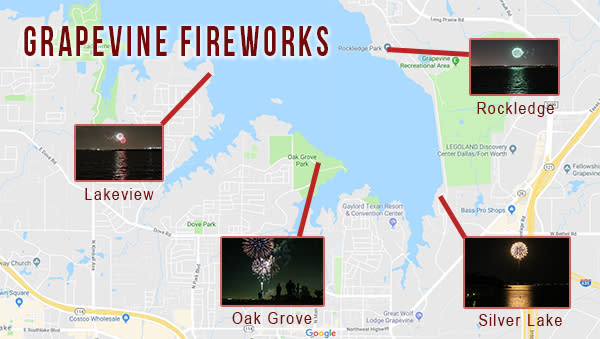 AT A GLANCE:
Every Friday between Memorial Day and Labor Day
Start Time: 9:30 p.m. (Between 10 and 15 minutes long)
Location: Can be seen over Lake Grapevine
Cost: Free (many viewing areas are free – some private businesses may charge an admission fee of which the City of Grapevine has no control over)
— SUGGESTED VIEWING AREAS —
VIEWING AREAS WITH RESTRICTED ACCESS:
The Vineyards Campground & Cabins: Accessible to guests only with pre-scheduled reservations for that Friday night. Gates are closed to general public.
Glass Cactus Nightclub at Gaylord Texan Resort (Opens at 9 p.m. to public. Typically a door charge is applicable which may range between $10 and $20. Guests 21 and up only.)
CLOSED OR NOT SUGGESTED
Top floor of the Gaylord Texas Resort parking garage (due to construction of the new expansion, the garage will not be utilized as a "viewing deck" this year. It will only be utilized as parking for convention and hotel guests. There will not be a "Gaylord rooftop party" as there has been in previous years.)
Snakey Lane (trees have grown to make limited sight visibility)
Meadowmere Park (farthest park from launch area and limited sight visibility)
Main Street in Downtown Grapevine (limited-to-no sight visibility of fireworks)
Have more questions, such as boat ramp access or rain info? Click here to see our FAQs.
We've got music to match the show! Visit the link provided for details.
https://www.grapevinetexasusa.com/events/summerblast/friday-night-fireworks/
Save
Save